Six months ago I was in Quito (see post here) and while there I realized I could fulfill a longtime personal dream to take a Spanish immersion class. I'd always thought I would do it in Spain years from now when I had more time, but it hit me: There are dozens of reasonably priced Spanish language schools in Quito; the time zone is essentially the same as mine in Washington, D.C. (meaning I could work at least part time); and I already had several friends who lived there. My trip (it ended up being a month and a half) was a distillation of everything I believe in and have learned about travel: slowing it down, learning a language, allowing the culture and nature and stories to seep in and change you, and connecting to people with abrazos and besos and cafecitos more than likes or links. And doing it all in a way that respects and sustains and creates a positive ripple.
Gone to Ecuador to improve my Spanish. Apologies in advance to my friends there who will hear me massacre their beautiful language as I try to gain some mastery over it. Coming with me? Vámonos!
First day of school: I've been meeting this woman over Skype twice a week for the last two months to work on my Spanish, and today I finally got to meet her in person and give her un abrazo enorme. Mayra is even lovelier IRL.
The vibe is bohemian chic, according to one resident of La Floresta. The neighborhood is relatively close in proximity but centuries apart in ambiance to Quito's famed historical colonial core. There's a pleasing mix of art galleries, an acclaimed indie movie house, cozy coffee bars, inventive wall murals, vegan restaurants, and office space for the creative class—magazine publishers, adventure travel designers, and such. The architecture is a mix of early 20th-century and contemporary. Many parts of Quito don't lend themselves to strolling (I love the evocative word paseando in Spanish), but this is the ideal place to do just that.
I love that in Ecuador and in much of Latin America, Valentine's Day has a more inclusive name, El Día de Amor y Amistad, recognizing that there are many facets of love and not leaving out so many who whether by choice or circumstance aren't paired. It's in that spirit that I send you (sí, tú!) my love. And there's no more delightful spot to celebrate than at Sel et Lumière, a crêperie in Quito's fashionable La Republica neighborhood. (Disclosure: It's owned and run by muy buenos amigos.) Today's special includes two crêpes—one savory and one sweet—with wine and coffee.
Also, here's a fun fact I just read in the newspaper El Comercio: Some 17,000 tons of roses are exported from Ecuador for Valentine's Day, much of it going to the U.S., Canada, and Russia.
Those neurons in the brain aren't firing as fast as they used to, but I'm enjoying being a student. It's not just about being able to communicate well in another tongue, but hidden in the folds of language are the secrets of culture and history, and social connection. Mercedes Prado was my teacher this week (Cristobal Colón Spanish School) and while we worked on the past perfect and the imperative tenses, I was also learning about the protest singer Mercedes Sosa, the burial rituals of the imperial Inca, and my teacher's father, a noted sculptor from Ibarra who could communicate with animals and once rescued a dove with an injured wing, nursed it back to health, and named it Juan. That dove followed him everywhere he went, and it would sway when he played the guitar in the afternoons (though it may have been because he'd always give the bird a bit of his liquor). The dove came back one day with una esposa, and then later, with hijos, to which he all gave names. It all came to a bitter end when the novio of one of Mercedes's sisters arrived with a perro grande and before anyone could say "no coma esa paloma," there was a dead bird, a sheepish dog, and a family in shock. Qué cosas aprendí esta semana!
En casa: One week in and I'm as chill as these pups, Sellama and Munay. And as much as I want to keep this oasis of art, love, and laughter to myself, you, too, can stay at La Casa Amarilla. Estoy muy relajada; no hay nada más que decir.
Mi lavandería, mi gimnasio, mi escuela, mi linda perrita. "Where are we really going?" asks the writer Herman Hesse. "Always home." We don't often stay in a place long enough to discover its quotidian pleasures. That's the magic of slowing down travel to a crawl. And the difference between running after something and letting life unfold. (Not always easy to do, trust me!)
In the offices of Ñan, Ecuador's premier travel and culture magazine—unlike at so many other media houses—both digital and tactile flourish in equal measure. In a renovated traditional Quiteño house, the latest publishing technology sits next to handcrafted souvenirs (available for purchase) that have been featured in the publication. Here, photo director Jorge Vinueza shows me what he calls his "oficio," or craft, but what might be better described as his passion project of the last 10 years: taking portraits using a late 19th-century German Voigtlander camera in a process called foto agüita. It requires a series of some 20 steps (including water and chemical baths and the making of both a negative and a positive image), but yields a small black-and-white photo in about 10 minutes. In an age of digital fakery and hyper-reality, I see verdad—y esperanza—in these monochromatic slips of paper.
The morning was too nice to have class inside so we took it afuera. Up Quito's teleférico from the base of Rucu Pichincha volcano some 2,000 feet to Cruz Loma, at more than 12,950 feet (from which you can hike up to the Summit at 15,407 feet, though most come just for the views). We managed a brisk walk up to 13,410 feet, a swing on the Columpio en Las Nubes, and some quick snaps as the clouds started rolling in. Made it back to the classroom just before the rain and in time to start the conditional perfect tense: Me habría encantado caminar más, pero tuvimos que regresar. After school my teacher Mayra and I got matching manicures.
I know if I were back home in Washington, D.C., I'd be devouring the news and elevating my cortisol levels over every twist and turn of my country's current political ordeal. But it's healthy and sane to remove oneself from the madness every so often. And simply make veggie crêpes in Quito. Te sugiero que lo pruebes (present subjunctive tense).
Feliz Día de las Mujeres! Women in Ecuador work hard, but as in many countries, including the US, earn less than men, are discounted, discriminated against, and often assaulted. But I have met many strong women here and throughout my travels who inspire me every day. Con Jenny y Mirian.
I needed a little convincing to go to the Jardín Botánico de Quito, as I'm not much of a plant person (and soil, ewww), but this gem within el Parque Carolina is un recorrido relajante through the country's diverse floral range from the selva to the sierra. Did you know: Ecuador is first in the world for the biodiversity of its plants. It has some 4,000 species of orchids, some 1,700 of which are endemic. And worryingly, many species are either critically endangered, endangered, or vulnerable. What can you do? Support projects and organizations that stop deforestation, protect the environment, and combat climate change. That, and take personal action to reduce your carbon footprint.
It's a little like the vitamin and personal care aisle at Whole Foods. Every self-respecting market has a stall like this full of potions and tinctures and dried leaves and roots for infusions and cleansings. Tell the tendera your troubles and whether it's a stomach ache or heartbreak, there's a cure. And increasingly some of it is backed by science. (Though maybe not the $2 bottles of Triunfo, Oro y Plata, Pasión, Abre Caminos, Éxito, and Amor, filled with what looks to be colored water. Pero tal vez, te aviso!) Mercado Iñaquitu.
Reading the clouds is practically a national sport in a city with notoriously fickle weather and inaccurate forecasts. I haven't learned to predict if it's going to rain but I have become an appreciator of clouds; and who can resist when they roll in so intimately at eye-level or beneath you? View from the Bellavista neighborhood.
It's impossible to escape references to the Inca in Ecuador but the Inca were only here for about 50 years before the arrival of the Spanish. In some ways the country is more a product of other lesser known cultures: Quitus, Puruhaes, Cañari, Valdivia, etc. With the luxury of time, one can more fully appreciate the complexities that give depth and heft to a place. At the Casa del Alabado, one of the oldest houses in Quito—gorgeously restored—you can explore these rich layers of pre-contact history, linger, learn, and even tomar un cafecito en el patio. I was especially smitten by the spare and clean and seemingly modern design aesthetic of the Valdivia culture. Menos es más? They were doing it some 3,500 to 5,500 years before Mies van der Rohe.
It's the largest Neo-Gothic church in Latin America, and the biggest in Ecuador, visible from almost anywhere in the city. It took 100 years to build and remains unfinished, in part because the story goes that the world will end when the Basilica del Voto Nacional is completed. For $2, make like Spider-Man and scale the steep ladder up one of the towers for some of the best views of the city. Scary-fun and mostly safe, but definitely not for kids, or those with mobility issues or a fear of heights. Check out the gargoyles of endemic fauna: condors and caymans, iguanas and tortoises, even boobies. Gracias por acompañarme, Melanie y Johana.
To call the Capilla del Hombre a chapel and the Casa Guayasamín a house would be misleading as both are larger than life, as was Ecuador's most famous 20th-century master artist Oswaldo Guayasamín, whose former home and greatest achievement are on full display. The house contains some of his paintings and his eclectic collection of religious art and pre-Colombian pieces, including bloody crucifixes and erotic figurines dating thousands of years. The so-called Chapel of Man houses the artist's massive murals depicting the social inequities and suffering of humans, particularly the poor in Latin America. The works, especially when seen together, are powerful and moving, and the house a revealing glimpse into the mind of genius.
On a day in which we heard news of man's capacity to hurt others, I am more keenly aware of how humans can also connect in the best and most ordinary of ways. Today I said goodbye to my Spanish teacher of the last month and the other teachers and fellow students (from Australia, Denmark, Canada, and the U.S.). I shared a wholesome meal and a delightful couple of hours with a friend I've enjoyed getting to know better. And I had a revealing conversation with an Uber driver who told me of his recent experience getting arrested in Texas for immigration issues, being transferred between detention centers four times, and finally being flown back to Quito from Georgia a month later—shackled—in a plane with some 100 other Ecuadorians with similar problems; I was near tears when he dropped me off 20 minutes later, though he assured me he bore no rancor against anyone and was simply grateful it happened to him and not his kids. Que te vaya bien, he said, which seems a fitting wish for all the world today.
Walking to school: Algunas de las cosas que veo cuando camino a la escuela.
La Floresta: This trending neighborhood—one of the first to develop outside the historic core after the First World War—houses funky cafés and vegan restaurants, art galleries and a film school, and creative office spaces in architecture that ranges from Art Deco to Modern to high-rise contemporary. Amazingly, the district retains its pueblo feel with a Friday mercado and the lavanderías, sastrerías, zapaterías, panaderías, and other talleres that power neighborhood life. My gym and yoga studio are here, as well as so many places for un cafecito that I still haven't found a favorite. Gracias a Juan for introducing me to "el mejor barrio," and Jorge for the historical walking tour.
Mi barrio: Quito is made up of neighborhoods, many of which don't look like much at first glance. But scratch the surface and stay awhile and their many secrets start to reveal themselves. Such is the case with Las Casas, the barrio I'm in. It's a mixed neighborhood with old adobe houses next to barbershops, mid-rise apartment buildings next to brake-repair shops, inexpensive lunch counters next to hip eateries reimagining Andean street food. Also close to the 'hood is Quito's intimate cultural venue, Casa de la Música, which hosts symphonic orchestras, ballets, duets and recitals; and Rumipamba, an archaeological park in the middle of the city that dates back to 1,500 BC.
Q en Quito: Magical realism is best connected to Gabriel Garcia Marquez's books but the Colombian writer was simply surfacing a way of seeing the world by many in these parts, born partly out of a syncretism of Catholicism and indigenous beliefs and a history where life was often lived on the edge, subject to paroxysms of nature and politics. And Quito especially—wedged into a valley of volcanoes, layered with pre-Inca, Inca, and Spanish cosmology, and quite literally as close to the Sun god as an Earth-bound person can get. In the six weeks I've been here, I've heard some strange stories: Friends have told me of seeing black birds right before 9/11 and before an aunt died; of being lost in a small town and experiencing a powerful and oddly dressed woman emerge from nowhere to utter the words: "Tú estás buscando a ti mismo." Another friend was approached by a stranger who handed him a slip of paper on which was purportedly written the name of the woman he would meet and marry; he subsequently met and married the woman whose name was written on the paper; I was with them when they celebrated their 17th wedding anniversary. Just last week I had my hair cut by a self-described "bruja" who gifted me with a ball of my own hair and told me of its powers.
Journalists are trained to be objective and skeptical but if I let myself, I, too, might admit I felt led to Quito through a series of head-scratching coincidences and repeating patterns. FYI, one of my nicknames is "Q." Señales? Sí o no?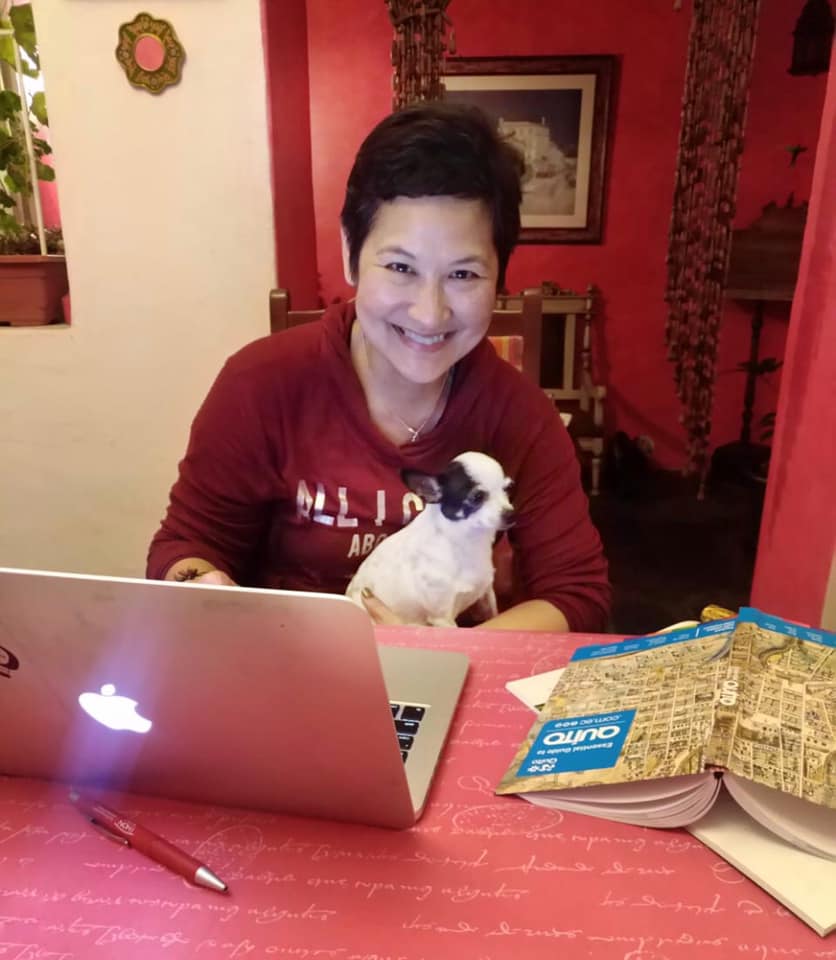 Mi casa: For six weeks I lived in this happy home, with three goofy dogs (Aaron, Sellama, and Munay), brightly colored walls and artwork, and a joyful spirit. One past guest swore he saw an extra-large angel squatting protectively on the roof; sounds about right. Oh, and some mornings you can see all the way to Cotopaxi. La Casa Amarilla.
This is the first of a two-part series on my trip to Ecuador. Photos © Norie Quintos.